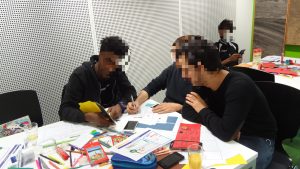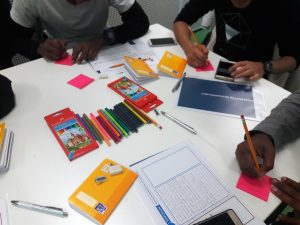 Four participatory workshops in 'Design Thinking' were conducted by the Geo-C team at WWU with over 18 young refugees and asylum seekers in Münster. Each of the sessions was half-day long, and they were done as extracurricular activities from the school. The workshops were held at the Institute for Geoinformatics from mid-October to mid-November, 2017. These workshops aimed to assess a set of participatory methodologies draw from a combination of elements from participatory design, participatory (action) research, and didactics to provide 'safe spaces' for learning and co-creation of technologies for them with young refugees and asylum seekers.
During these workshops, we also aimed to understand the awareness of young refugees and asylum seekers regarding the management of their personal and location data when they use digital services. Several exploratory methods were used for this, as well as for introducing, after the 'exploratory' assessment, the concept of personal and location data privacy to them. The goal of this exercise was to evaluate if such strategy modified somehow the way they ideate and design digital services to support them in their (re)settlement in Münster.
At the end of the workshops, attendance certificates for participating in the workshops in 'Design Thinking' were provided to the young refugees and asylum seekers who participated. All of these activities were done with the collaboration of the school staff, mainly from the school administration and teachers.