Fr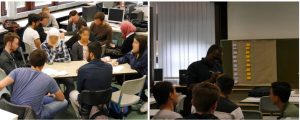 om mid-September to mid-October, 2016, the Geo-C team at WWU in Münster, Germany conducted several participatory workshops and activities with over 50 students, ages 15-18, from the International and IT classes* at school in the city.
The overall goal of these activities was to generate participatory spaces in which it was possible to identify the challenges and needs of the group of young refugees and asylum seekers, as well as a potential ICT mobile tool to guide them when using open geospatial data to address their information needs during the initial stages of their resettlement in Münster. In total, we held five workshops, one field work, and one extra hands-on session at the school. All of these activities were done with the collaboration of the school staff, particularly from the school administration  and the IT teacher and coordinator.
Some of the preliminary results were:
A) Initially identified needs of the young refugees and asylum seekers related to 1) learning the local language upon arrival, 2) the urge for establishing social contact with people from the local community, and 3) the relevancy of ICT apps which are more 'user friendly'.
B) A set of places of importance for the young refugees and asylum seekers in the city.
C) More than 13 mock-ups done by young refugees related to a potential geospatial application which supported them upon arrival.
*This classification of the classes is the official designation from the school. The international class is constituted by students at the school who are recognized as refugees and asylum seekers.