Five researchers of the GEO-C team and one from the SenseBox team attended GEOTAG 2017 which took place in Münster on May 17, 2017. GEOTAG was visited by around 300 participants and gathered various institutions (companies, city council, university) from Münsterland. The theme of the day was "Digital Society – Digital Transformation" ("Digitale Gesellschaft – Digitaler Wandel"). GEO-C presented the Open City Toolkit and set up a stand where participants gave feedback about the use of open data for private companies and products that open smart cities could find interesting. Some pictures from the day:
Auriol Degbelo's presentation on the Open City Toolkit
Group picture with posters from Diego Pajarito (ESR07), Shivam Gupta (ESR08), Mehrnaz Ataei (ESR13) and the SenseBox roll up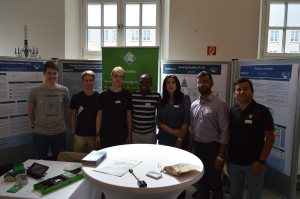 We thank the visitors of our stand for their feedback!