From May 9 to May 12, 2017, in Wageningen, The Netherlands, the 20th AGILE conference took place. This year's team: societal geo-innovation.
AGILE 2017 is the annual international conference on Geographic information science of association of geographic information laboratories in Europe. This event, organized by Wageningen University and the remarkable local committee, was an excellent opportunity to discuss the social impact of geo innovation over the past 20 years, and the most exciting and challenging topics for the next 20 years in GIScience.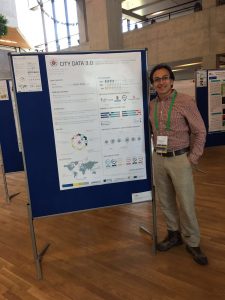 With more than 200 participants AGILE 2017 had pre-conferences workshops, parallel sessions, keynote sessions, and posters session, about the most significance GIScience topics such as VIG, Data Quality, Spatial analysis, Open Data, GeoGames, smart cities and others.
The poster session had more than 30 posters related to different topics. GeoC UJI was part of this event with two posters. Citizense – A generic user-oriented participatory sensing framework by  Manh Khoi Ngo, Luis Rodríguez and Sven Casteleyn and City Data 3.0 – A generic initiative to promote and assess the reuse of geographic information in cities – Early steps by Fernando Benitez and Joaquin Huerta. We are proud to say that the latter won the best poster award at Agile 2017!
City Data 3.0 poster presented the preliminary results of research related to the reuse and discoverability of available open data in cities. This poster shows the barriers identified in four selected cities, main data quality criteria considered by data consumers and the most valuable services and formats used for developers and analysts in Bogota, Cali, Medellin, and Valencia.
More GEO-C contributions in AGILE 2017:
Short Paper presentation: One tool to spatialize all – sense of place, social capital and civic engagement by Albert Acedo, Germán Martín Mendoza Silva, Marco Painho and Sven Casteleyn
Organization of 5th Open Data for Open Cities participatory workshop, Joaquin Huerta, Fernando Benitez, Mohammad Mehdi Moradi, Pau Aragó Galindo
Organization of Agile Workshop on Geogames and Geoplay, Christoph Schlieder, Miek Gould, Diego Pajarito, Ola Ahlqvist, Thomas Heinz, Peter Kiefer, Vyron Antoniou