Yesterday, Albert Acedo (ESR04) and Manuel Portela (ESR15) developed a survey as a part of their joint research with the local community of San Domingos de Benfica, a neighbourhood in Lisbon. The meeting was organized by the Junta de Freguesia de Domingos de Benfica and the NGO CDI Portugal for the promotion of the participatory budget.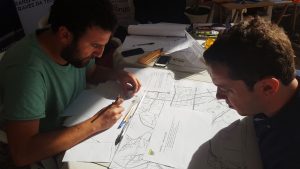 The survey was the first step to test how dwellers of the neighbour can perceive and feel their sense of place and social capital by mapping themselves and their social groups in a local cartography. The next steps will include a digital application that Acedo is developing and will be released next month, and an ethnographic experience that will be held with same participants next week.
The outcome of the research, is meant to provide some insights on how neighbours can improve their quality of live by enhancing their neighbourhood sense of belonging, emotional engagement, and civic participation.