On February 27, 2016 in Düsseldorf, more than 80 participants including developers, researchers, administration officials, students, designers and programmers came together to create applications for "Education through Open Data".
After a very interesting panel discussion from Claus Arndt (Moers), André J. Spang (Empress Augusta High School), Christian Dinnus (Open.NRW) and Hartmut Beuss (CIO NRW), the day unfolded into developing applications that use Open Data to educate children.
As participants, we selected our teams based on our interests and skills in the morning and worked all afternoon to develop those ideas as a group. It was a wonderful opportunity to get to work with new people and exchange ideas as well as improve them. I was part of the "AmazingMapPeople": an international team (Colombia and Germany) of eight people from two entities IFGI-Viderum-con terra as well as interested citizens.
We worked on how to design an application that would allow children to better understand and be able to use open data through maps. Thanks to Open.NRW portal we had online access to different types of information.
For my specific area of study in the context of the Geo-C project, I am working on how to teach children about the environment and about sustainability. One subject specifically is very relevant: waste. We had information and data sets about waste management, recycling facilities location, waste production areas as well as quantities of primary waste production.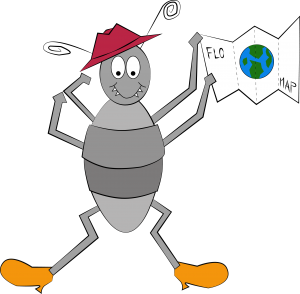 We were also interested in education and child computer interaction so we added key features like gamification parameters, responsiveness, and motivational strategies among others. One particular interesting characteristic that we included in our application was a fictional character that accompanies the child throughout the game and provides the tasks, the instructions as well as tips. FLO was born from a play on words were FLO in german means flea but it also represents Free Learning Online. Even more "amazing" FLO actually grows in size as the child advances in the game.
FLO: fictional interactive character of the application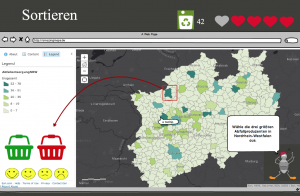 Another very relevant part of our application was to visualize and show all the information from the open data sets through maps, using them as a necessary tool that enables learning.
The app used different types of questions which included: multiple choice, clicking, sorting, comparing and filling in the blank.
                                                                                                                                                           Mockup of the application using a sorting question
At the end of the day, each team had 4.5 minute pitch to present their work and convince the public to vote for them.
The winners were:
1st place: The Luisen School Dusseldorf
2nd Place: IFGI – con terra – Viderum
3rd Place: Ok Lab Wuppertal
3th Place:  Gymnasium Nettetal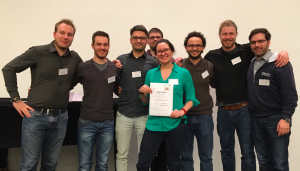 With FLO, AmazingMapPeople Team (we) won second place and 3000 Euros!! 😉
This NRWHackathon was a great opportunity and turn out as a great success!
I am looking forward to developing these ideas even further and to attend the next hackathon!
For further information visit:
http://conterra.de/de/unternehmen/aktuelles/aktuelles/2016/03/nrwhackathon.aspx
https://open.nrw/de/content/nrwhackathon-war-ein-voller-erfolg
Paola Pérez-Leiva
ESR GEO-C